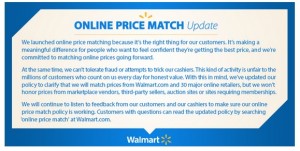 Just a week ago we reported that Walmart had made an official policy of what many store managers were already doing: Walmart will match online prices, including Amazon's pricing, in stores.
There are clear advantages for Walmart in doing this, not least of which is the ability to keep people from going shopping at Amazon. A shopper who sees that one item is cheaper at Amazon might leave the store, planning to shop at Amazon instead, and end up buying a whole basketful of products at the ecommerce giant instead of a whole basketful of products at Walmart.
Price matching also increases trust, and could even do away with the price comparison mindset — between the Savings Catcher and knowledge that Walmart will price match online merchants, consumers may just decide to be faithful Walmart shoppers and save some time.
But scammers very quickly figured out a sneaky way to take advantage of this.
It may be a challenge to get on the shelf at Walmart, but it's very easy to get on Amazon.com as a third party, or "marketplace" seller. More than 2,000,000 people sell their goods on Amazon alongside Amazon's goods. They pay fees, but it's very easy to become an Amazon reseller — easier than getting a library card.
Some miscreants set up third party accounts and posted amazing deals, like a $90 PlayStation. Amazon quickly removes shady items like this, but an Amazon marketplace seller can post the item and snap a screenshot before the item is taken down. If they're quick, they can get their screenshot and then take down the item before they even get caught by Amazon, leaving their account in good standing so they can run the scam again.
Walmart associates honored some of these fake prices, and some of the scammers boasted about their tricks on social media.
Walmart quickly changed the policy. Saying, "We can't tolerate fraud or attempts to trick our cashiers," Walmart limited the price matching to 30 top online retailers, with no third-party sellers, membership sites, or eBay and similar auction sites.
Walmart was able to catch and shut down this scam quickly, so there was little harm done to Walmart and probably none to honest shoppers, either.