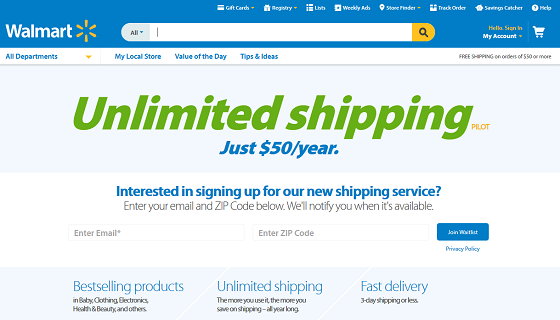 Walmart's new premium membership program will be called ShippingPass, according to reports in TechCrunch and Time. For $50.00 a year, Walmart.com customers will get free three-day shipping on eligible items and free four to six day shipping on certain other items, with no minimum order.
Walmart.com currently offers free shipping on orders of $50.00 or more.
While this program has been described as an alternative to Amazon prime, it may actually be an alternative to Prime Pantry.
Amazon's Prime program, which runs about $100 a year, has five components:
free two-day shipping with no minimum purchase
unlimited cloud photo storage
free video streaming of movies and TV shows, including Amazon exclusive content
free music, again including some exclusives
free monthly Kindle book checkout
Prime Pantry, on the other hand, offers groceries and household goods for a flat $5.99 a box, including "heavy and bulky items that are cost prohibitive to ship for free" — for example, dog food and toilet paper. Shoppers are told the percentage of their box (four cubic feet or 45 pounds) which is still available as they add items and can use online tools to get the box completely full, so the $5.99 box could take the place of a monthly stock-up shopping trip, or less price-conscious consumers can put just a couple of items into the box and pay the shipping fee.
The service is available only to Prime members, so the price-conscious shopper who uses the service once a month would pay $170.00 and change over the course of a year, compared with $50 for ShippingPass, a significant savings. The full range of ShippingPass eligible products isn't yet known, but Walmart could certainly compete on selection of basic grocery and household items. Walmart also has a much wider selection in house brand products than Amazon, which offers its house brand in electronics and household furnishings rather than in grocery.
Prime members whose focus is on the shipping rather than the digital products, and especially those who use Prime Pantry, might find ShippingPass an appealing alternative. There may also be a positive side effect, given the studies that have shown that Walmart shoppers and Walmart.com shoppers are not always the same group of people.
ShippingPass, like Prime Pantry, means greater convenience and savings on time and gas, not to mention the benefit of not having to go to the grocery store, a plus for the many Americans who dislike grocery shopping. Walmart, however, has the advantage of brick and mortar stores in customers' neighborhoods. A ShippingPass shopper who needs a quick fill-in on products and doesn't want to wait for three days can zip over to the local Neighborhood Market, and is likely to, since it's an extension of her regular online grocery shopping.
It might not be a "Prime killer," as some observers have suggested, but it might be the final nail in the omnichannel shopper experience box. Getting Walmart shoppers to go to Walmart.com and Walmart.com shoppers to go to Walmart would benefit the entire organization.
For Walmart suppliers, the message is simple: get into Walmart.com. A shopper who buys your products regularly in the store and can't find your brand online may switch to a competitor's brand… online and in the physical store.